**WINTER HAIR CARE BY STAPIZ***
The season of scarves and hats as well as environmental pollution such as smog can cause your hair to be excessively oily, pick up static electricity, frizz... Hair just doesn't like winter, so it's worth taking special care of it at this time of year!
Professional STAPIZ ARGAN'DE Moist & Care cosmetics, thanks to their unique combination of argan oil, jojoba oil, and sunflower oil, perfectly nourish, intensively moisturize, and regenerate the hair structure from the inside, preventing it from becoming excessively greasy and frizzy. Additionally, ARGAN'DE provides effective protection against unfavourable external factors.
EFFECT: strong, shiny hair without weighing it down!
ARGAN OIL contained in the unique ARGAN'DE recipe is a real energy and vitamin bomb! It is a well-known "elixir of youth" which, thanks to the large amount of vitamin E and unsaturated fatty acids, perfectly moisturizes and nourishes the hair structure, eliminating the effects of dry hair. Enables hair to regain elasticity, vitality, making it strong and silky-soft. In turn, JOJOBA OIL intensely moisturizes the hair and the delicate scalp, soothes irritations, and regulates the work of the sebaceous glands, taking care of the condition and elasticity of the scalp. SUNFLOWER OIL strengthens, nourishes, and gives shine to the hair.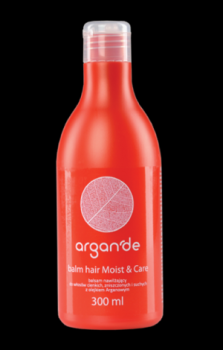 ARGAN'DE SHAMPOO Moist and Care
The modern formula of ARGAN'DE shampoo prevents your hair from becoming excessively greasy, does not burden it and, therefore, enables easy and simple care. This shampoo can be used for daily hair care. EFFECT: healthy and shiny hair.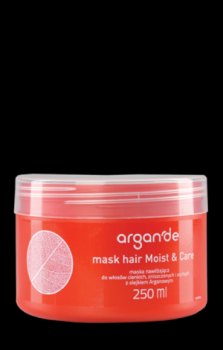 ARGAN'DE Moist and Care Mask
Thanks to the unique combination of argan oil, jojoba oil, and sunflower oil, the ARGAN'DE mask intensively moisturizes the hair and scalp. It provides oily hair with proper cleansing and a beautiful, healthy look.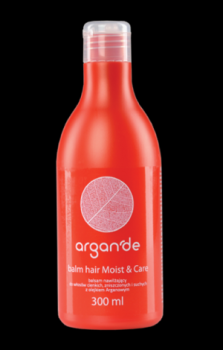 ARGAN'DE Moist and Care BALM
The unique formula of ARGAN'DE balm strongly moisturizes and regenerates dry hair and hair damaged by hairdressing, giving it shine and softness. It makes the hair more durable and flexible. The balm also cares for the more delicate scalp, soothing irritations and regulating the secretion of sebum.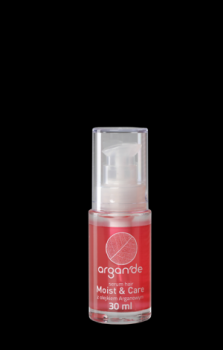 ARGAN'DE Moist and Care SERUM
This serum with argan oil has moisturizing properties and rebuilds the hair structure, nourishing and regenerating the hair, prevents split ends and frizz. In addition, the ARGAN'DE serum facilitates combing and styling the hair, and it can also be used during colouring treatment as an addition to the mixture to increase the intensity and vitality of the colour. 
Stapiz – Professional Hair Cosmetics can be bought from wholesalers and hairdressing stores (both brick and mortar and online).