Keratin gel and wax, spray shiner and hairspray, brilliantine, mist with sea salt, curl cream, volume spray... Get to know FLOW 3D – a line of professional cosmetics by the Polish company STAPIZ, thanks to which the only limitation in hair styling is... your imagination! With FLOW 3D, you can easily create an effective hairstyle!
Professional STAPIZ cosmetics perfectly shape the hair, adding volume and shine. They also provide protection against dryness, which is why FLOW 3D is perfect for everyday hair styling.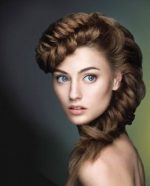 Short hair? Try the flexible FLOW 3D keratin wax for modeling short hairstyles or the highly shiny FLOW3D brilliantine for a beautiful shining and lasting effect regardless of the weather.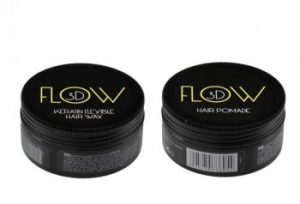 Curly, wavy, frizzy, and undisciplined hair? FLOW 3D curl cream with avocado oil, collagen, and aloe extract – will nourish and moisturize the hair to make it strong and full of shine. The cream improves and regulates curls, and it also contains a UV filter.
Styling your hair without weighing it down? Professional, strongly fixing varnish with FLOW 3D keratin facilitates modeling of all types of styling without weighing it down and leaving no residue on the hair. The cosmetic is brilliantly combed and does not stick the hair together.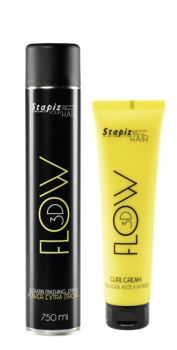 Full volume of hair in the blink of an eye? The VOLUME BOOSTER FLOW 3D modeling spray will lift the hair from the roots and add volume and density – without weighing it down! Moreover, it will make your hair shine beautifully! The FLOW 3D spray also protects the hairstyle from the harmful effects of moisture.
Dull hair without shine? The FLOW 3D shiner with a UV filter and macadamia oil will give your hair shine and a delicate, non-overburdening protective layer against moisture as well as prevent static electricity. Recommended in the final phase of styling hairstyles. After application, the hair is silky soft. On the other hand, to improve the color intensity of colored hair – reach for the SHINE BOOSTER FLOW3D.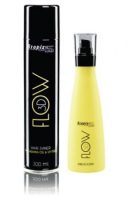 The FLOW 3D line also includes a strong-fixing, professional hair styling gel with keratin that gives the hair a sense of movement as well as a mist with sea salt and a UV FLOW 3D filter to protect against excessive drying of the hair.